Kerry and James' Intimate Destination Wedding in Mauritius
Kerry and James made the decision to tie the knot at the stunning 5 star Dinarobin Golf Resort & Spa, just the two of them and it couldn't have been more perfect. Read on to find out about their romantic destination wedding…
How was the helicopter ride from the airport to Dinarobin Beachcomber Golf Resort & Spa?
So starting from the beginning, we chose to have a helicopter transfer from the airport to our hotel to start our very special holiday off in style and wow this did not disappoint, we were greeted at the airport transfers desk by a member of staff who gave us bottles of water and immediately escorted us to our helicopter, the pilot was so friendly and gave us commentary of some of the history of the island as we made our journey through the sky to our resort, the view as we flew over Le Morne and into the grounds of the Dinarobin hotel were just breath taking.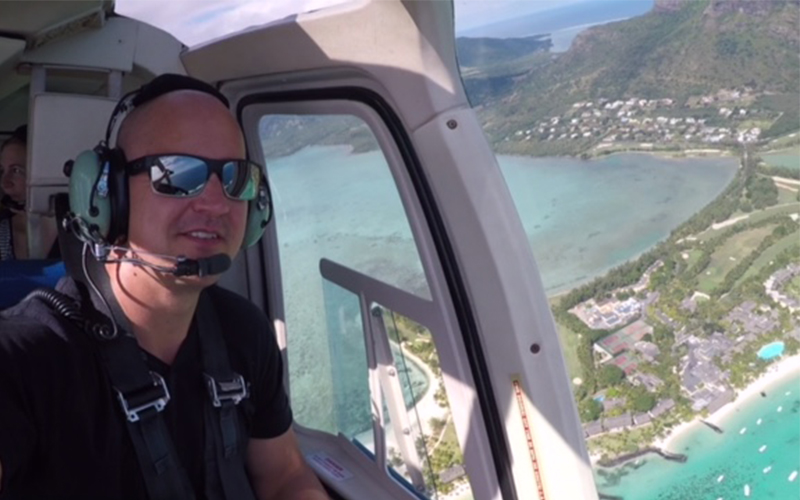 How was your stay in the Club Junior Suite Beachfront Room and did you make use of the benefits of The Club?
Once at the hotel we were greeted with face towels and taken to our concierge in The Club – which offers guests exclusive services – where we had our first of many cocktails whilst we were talked through checking in and the agenda for our wedding. We loved the Club Junior Suite Beachfront Room on the beachfront; it was very spacious and had a lovely outside lounge area. We didn't get to take advantage of using The Club which offered the complimentary drinks as much as we would have liked, we enjoyed being on the beach closer to our room and during the day, so we ended up paying for drinks from the beach bar. We used the benefits of The Club most evenings though to enjoy a few drinks in Le Mahogony Bar before we had our evening meal.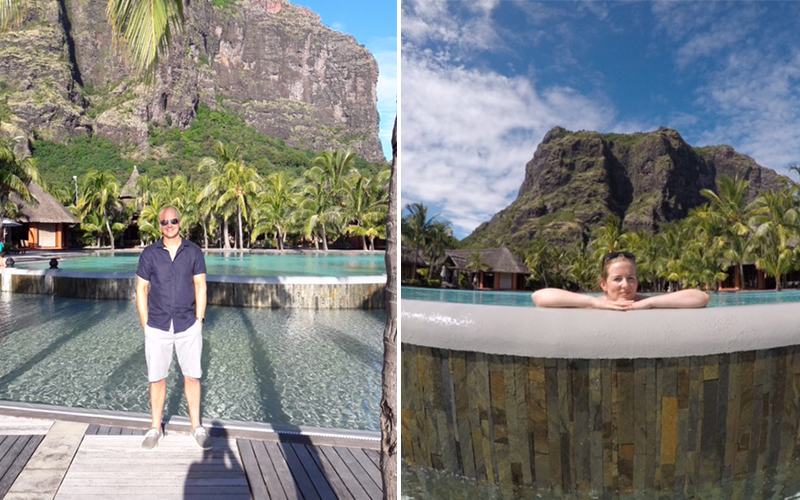 What were the dining choices during your stay at Dinarobin?
We loved the main restaurant L'Harmonie, which offered breakfast every morning and themed buffet option in the evening, amazing quality and selection of food.  Our favourite lunchtime spot without a doubt was La Plage, set on the beach we enjoyed such lovely food whilst looking out to sea. We also ate at II Gusto and La Ravanne which were both fantastic, in particular La Ravanne was very memorable as our table was right next to the sea with the moon glistening on the water, we had a guitarist and singer who made the most amazing atmosphere with their acoustic set, it really was a beautiful setting and nice to try the local Mauritian cuisine.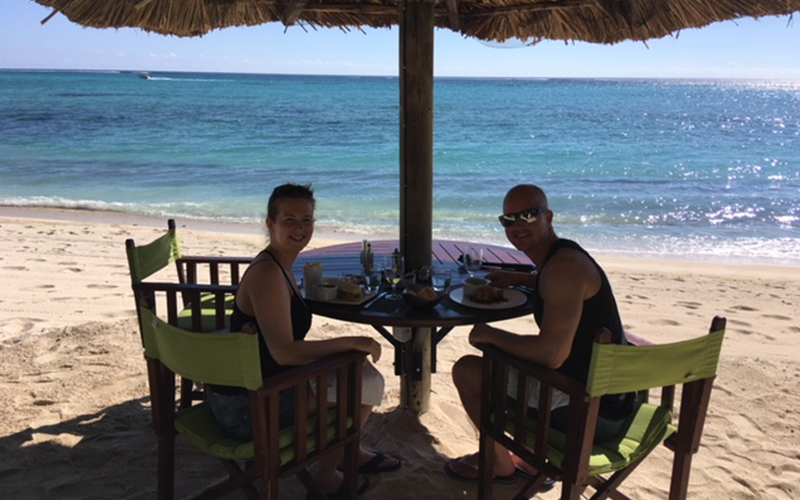 Did you use many of the hotel's facilities during your stay?
The spa at Dinarobin golf Resort & Spa was out of this world, so tranquil and peaceful, with the view of Le Morne whilst you are sat relaxing and as you showered due to the open roof.  I had all my wedding beauty trials and treatments here including hair and was so well looked after; we particularly enjoyed our couple's massage. We so wish we had been there longer to enjoy more of the water sports that were on offer, we managed to enjoy a morning paddle boarding over at Paradis and James went out on the snorkelling trip whilst I was having my hair and make up trials, there is so much to offer and one day when we return it will be high on our agenda to make full use of what is on offer at Dinarobin Golf Resort & Spa.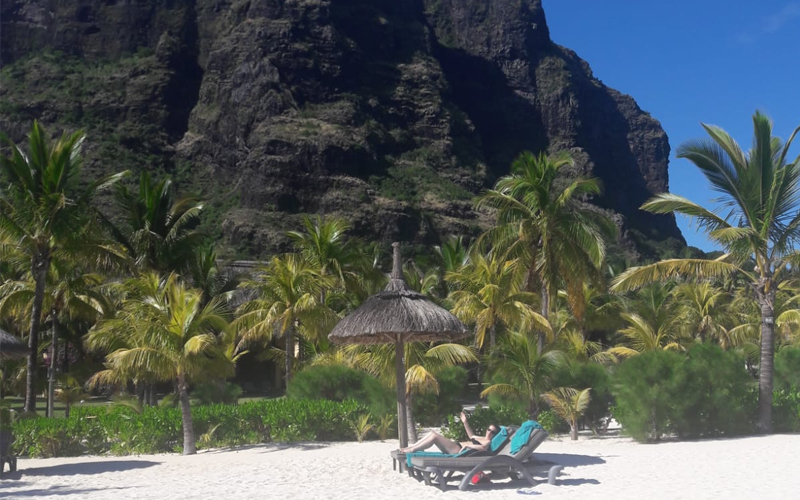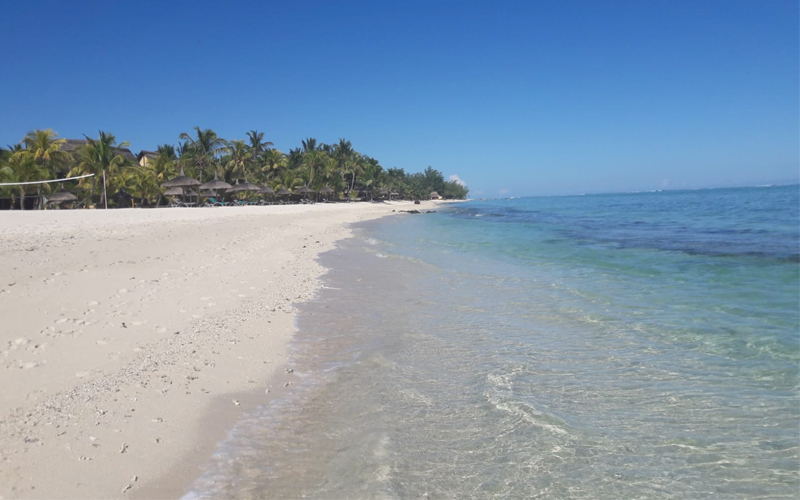 How was your wedding day at Dinarobin Golf Resort & Spa?
Our wedding was perfect. We met with our wedding co-ordinator on the day we arrived who went through everything in detail and gave us choices of flowers, food, location and music. It was all so stress free and I felt at ease immediately that everything was organised and I knew who I could contact with any queries. On the day I enjoyed having my hair and makeup done in the spa and then got ready in my room.  James had his own room for the afternoon to get ready in and we were then separately taken to the beach.  We had a beautiful ceremony looking out to sea followed by cutting of the cake, champagne and canapés. Our wedding coordinator, Anais and our waiter for the evening, Daril were our witnesses and we then walked hand in hand along the beach and enjoyed a boat trip to take further pictures. Our ceremony was timed for late afternoon so that we could capture the stunning sunsets they have in Mauritius. We feel so lucky to have exchanged our vows in a truly beautiful place.  We were then taken to the Bell Tower, which was all set up for our four course evening meal, our table was beautifully laid with our wedding flowers and we could see the stars through the open roof; the food and service from our waiter Daril was exceptional.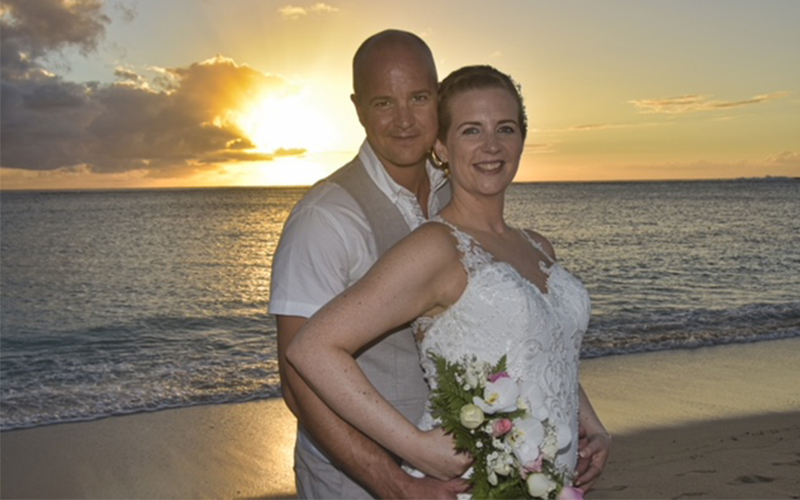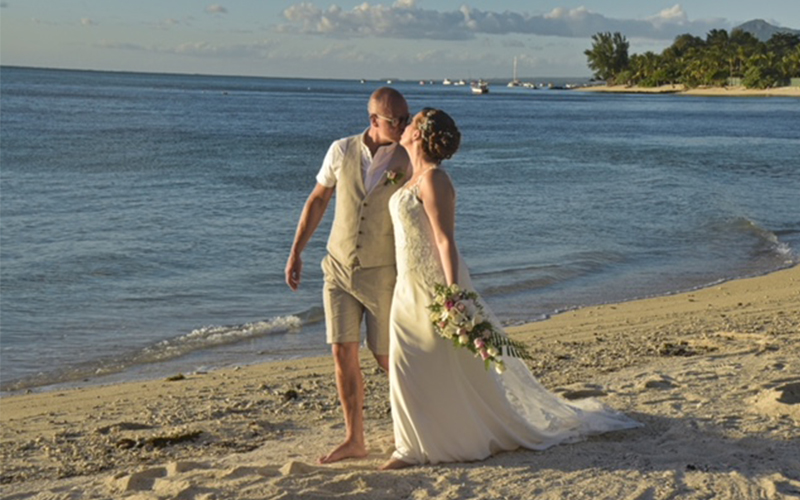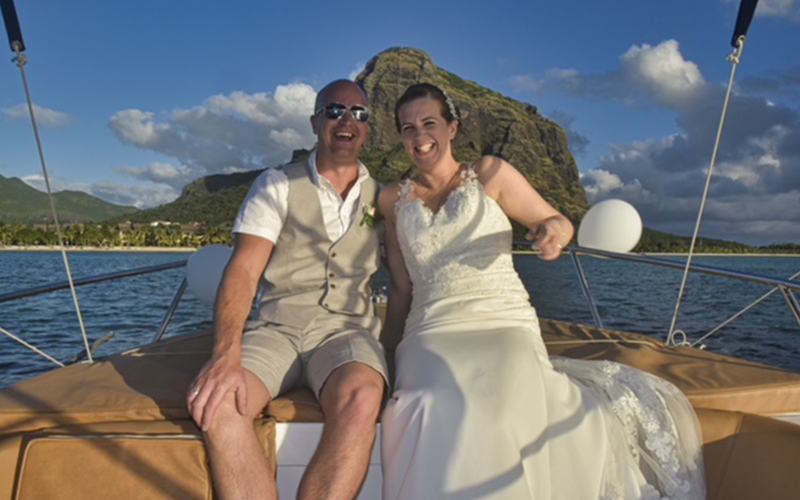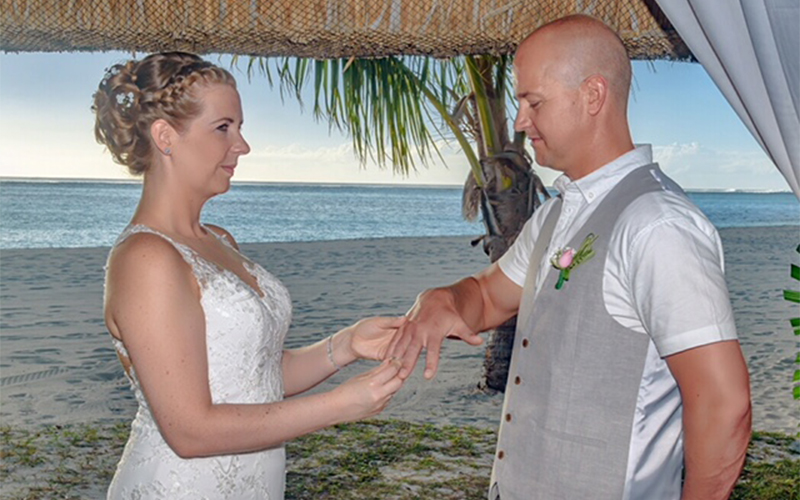 How was the service that you received from your wedding planner during your planning and booking process?
I cannot thank you enough for all her assistance throughout the whole experience, from start to finish her professionalism and personal touch made the booking and planning process so enjoyable. I couldn't believe our luck when she phoned to let us know she was off to Mauritius herself a few weeks before ourselves, she took loads of pictures and raised any concerns we had direct to the team in Mauritius which we were so grateful for.  Rebecca was always at the end of the phone and nothing was too much trouble.
Inspired by Kerry and James' destination wedding in Mauritius? Contact us today about planning your wedding in Mauritius at Dinarobin Beachcomber Golf & Spa Resort.